Overview of Services
The MCW Cancer Center Redox & Bioenergetics Shared Resource (CC RBSR) is dedicated to redox and bioenergetics research by utilizing cutting edge technology to make advancements in the field. The MCW CC RBSR is located on the second floor in the MACC Fund Research Center (MFRC), room 2013. Two major types of instruments are housed within the CC RBSR laboratory: a Shimadzu Liquid Chromatography / Mass Spectrometry 8030 System (Shimadzu Nexera 2 UHPLC with LCMS-8030 detector) and Seahorse XF96 and XFe96 extracellular flux analyzers (Agilent Technologies). These instruments enable profiling and quantification of multiple metabolic pathways, including assessment of cellular oxidants and mitochondrial and glycolytic function in cancer cell culture models, allow for assessment of mitochondrial toxicity of novel chemotherapeutic agents, and can be used in longitudinal studies of tumorigenesis prevention. The Shimadzu LC MS/MS system is also capable of detecting and quantifying multiple endogenous metabolites simultaneously in biological samples. Investigators wishing to use these instruments design experiments in collaboration with the MCW CC RBSR staff to ensure technical proficiency and accurate analysis of the data.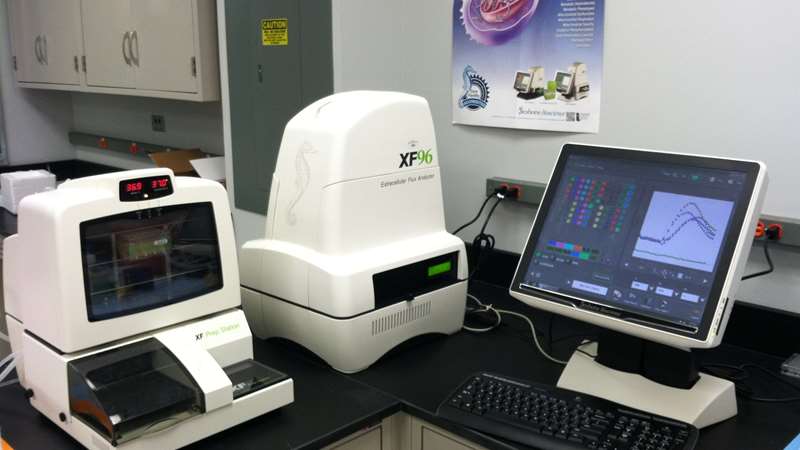 Shimadzu Nexera 2 UHPLC with LCMS-8030 detector Seahorse XF96 analyzer
Services Provided: A wide range of experimental applications of extracellular flux and metabolomic studies can be performed with the instruments in the MCW CCBSR facility. Using the Seahorse XF96 and XFe96 analyzers, we can simultaneously measure both oxygen consumption rate and extracellular acidification rate in a noninvasive manner ina 96-well plate format. The Seahorse XF96 and XFe96 systems allow investigators to examine mitochondrial function, glycolytic function, fatty acid oxidation, glucose metabolism, glutamine metabolism, and metabolic phenotypes all in cancer models. Also, the respiratory activity of mitochondria isolated from fresh or frozen tissues can be measured. Using the Shimadzu LC MS/MS, we offer enhanced and fast detection and quantification of extra- and intra-cellular substrates and metabolites, metabolic profiling/phenotyping, and drug/compound screening. The core also provides expertise and instrumentation for state-of-the-art analyses of cellular oxidants, including superoxide, hydrogen peroxide and peroxynitrite. Fluorescence plate reader, HPLC, and LC-MS instruments are available for redox measurements. The instruments and expertise available make the MCW CC RBSR an important and unique resource on the MCW campus and Milwaukee area.
Leadership
Jacek Zielonka, PhD, DSc | Director
Location and hours of operation
Hours
Location

Monday - Friday

9am - 5pm

MCW MFRC 2013

8701 Watertown Plank Road
Milwaukee, WI 53226
Links and Resources